---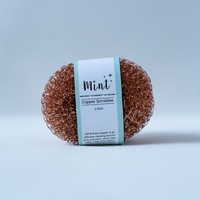 Unlike traditional stainless steel scrubbers, these 99.97% pure Copper scrubbers will never rust or splinter, and they can remove the stubborn stains from the kitchenware or machine surfaces easily.
Why do people use copper scrubbers?
Copper is a soft metal that is non-abrasive, its fine copper threads loosen even the most stubborn dirt carefully. However it is still not recommended for use non-stick pans or sensitive surfaces. DO NOT LEAVE IN WATER.

Sold in packs of two. Clean with lemon juice and baking soda.